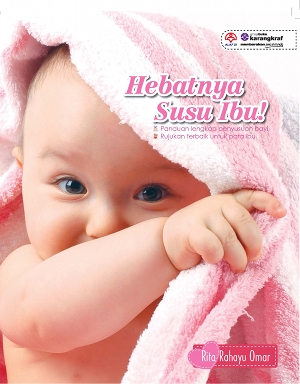 Karya sulung Pn Rita Rahayu Omar, salah seorang perunding laktasi kami kini tiba di pasaran – bukunya berwarna-warni lengkap dengan gambar. Memuatkan tip menyusukan anak bagi ibu berkerjaya, ibu yang sedang sakit, melahirkan bayi secara caesarian, bayi pramatang, masalah puting susu, kaedah menyimpan stok susu, menangani bayi yang enggan menyusu, menyusukan anak melebihi usia 2 tahun dan pelbagai mitos dalam masyarakat berkenaan susu ibu dihuraikan dengan bahasa santai. Tidak ketinggalan, perkongsian pengalaman wanita bergelar ibu yang berjaya menyusukan anak angkat, anak yang dilahirkan pramatang, ibu yang melahirkan bayi kembar dan pengalaman ibu yang terpaksa bertugas setelah 15 hari melahirkan anak. Soal-jawab 1001 permasalahan penyusuan dihuraikan dengan kaedah dari hati ke hati turut mengisi sebahagian daripada kandungan buku ini.
Antara kandungan dalam buku ini:-
Susu Ibu: Menyingkap misteri 'cecair' emas:
Susu ibu Vs susu formula
Susu ibu bukan punca obesiti
Tip elak bayi tersedak
Tip menyusukan bayi jika melahirkan secara caesarean
Ibu yang menyusukan bayi tak perlu berpantang makan
Jemput bersama Pn Rita Rahayu dalam pelancaran bukunya ini di acara "Big Latch On", Iftar, and Opening of SusuIbu.Com Centres pada 4 Ogos ini di outlet Seri Kembangan.


Comments
comments
Powered by Facebook Comments