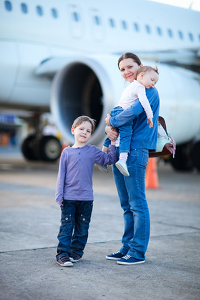 I think the best part about breastfeeding is that you don't have to worry about ensuring clean water supplies and go through the hassle of sterilising bottles! Breast milk is naturally sterile and contains immune factors, so it is the safest drink for your baby while travelling. If your baby is over six months of age and needs dietary supplements, consider using formulations that don't require mixing in water, such as vitamin drops. If you have a toddler, you may want to bring along chewable supplements. Here's a checklist of helpful tips and suggested items to bring along for your trip:
Do your research & planning: Ask your friends or travel agent for advice on children-friendly airlines. Some airlines are more accommodating than others. You may want to seek suggestions from your travel agent on airline travel with children
If you are unsure of the availability of baby products at your destination, take enough supplies to last you the entire trip ie. Wet tissues, diapers, liquid cleanser for baby stuff etc. Take sachets of gastrolyte in case your baby develops diarrhoea.
If you are travelling to a tropical country with beaches etc, take extra care to avoid insect bites. Some suggestions:

make sure your baby's skin is well covered with clothes
wear insect repellent (preferably one that is safe for babies)
use insect sprays or bring along an electric mosquito repellent to use in  your hotel room
Bring along a Digital Thermometer/Fever Scan
Medication for baby ie. Fever Patch, Cold/Flu Syrup, Voltaren suppositories which are for rectal use only and can bring down a fever faster.
Medication for mother ie. Panadol, Flu medication, charcoal tablets and Oral Rehydration Salt(ORS) sachets to treat diarrhea, vitamin supplements
Other medications: Both prescription and over-the-counter medications can be passed to your baby via your breast milk. Only take medications prescribed or recommended by your doctor who knows you are breastfeeding. If possible, take with you all the (safe) over-the-counter drugs you think you may need for the duration of your trip. Remember that other countries may not stock familiar brands, and what you assume to be a suitable substitute may not be a good thing to take while breastfeeding
Baby Blanket/Sleep Sack
If you plan to express milk, take your own equipment (such as breast pump) with you. Use disposable milk storage bags or containers. Don't forget to bring the power point adaptor if your breast pump is electric. Bring along a universal power point adaptor just in case (most hardware stores sell these) ie. Power sockets in European countries normally different
If you are travelling alone with baby, ask the airline if it is possible to have an 'assistant' who will help you at each stop. For example, the staff member might collect your luggage for you.
While travelling by plane, try to time your baby's feeds so they are drinking during take off and landing. This will reduce the likelihood of ear pain triggered by the changes in cabin pressure. Most airlines have a special seat belt for babies.
Wear nursing clothes/sling/nursing cover/shawl if you wish to avoid unpleasant attention while breastfeeding in public.
Carry your valuables on your body, such as in a belt worn next to the skin or a special travelling bag to store all your important documents, cash and valuables. Thieves tend to target women travelling with young children simply because mothers are often distracted and not able to hold onto their handbags.
You may experience a drop in milk supply
Your milk supply may decrease during your trip. This could be due to stress, jet lag, dehydration or illness (such as travellers' diarrhoea). It may help if you:
Drink plenty of non-alcoholic fluids
Avoid caffeinated drinks
Don't smoke and Avoid smoky environments
Try to get adequate rest whenever possible
Continue to breastfeed, but increase your water intake if you get travellers' diarrhoea.
by Rita Rahayu Omar <rita@susuibu.com>
References:
Babycenter website
Better Health Channel website managed by the Victorian Government's Department of Human Services, Australia