Babywearing Workshop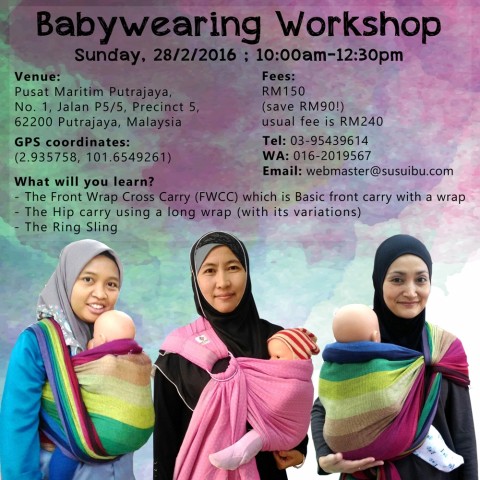 BABYWEARING WORKSHOP
---------------------------------------
What will you learn?
- The Front Wrap Cross Carry (FWCC) which is Basic front carry with a wrap
- The Hip carry using a long wrap (with its variations)
- The Ring Sling
That's right! You will learn 3 types of carry in 1 session!
In this session,you will:
- learn how to do each type of carry in a step by step manner and achieve the same results everytime!
- learn how to "feel" if the wrap job is good or not (the trainer will troubleshoot and fix it in the spot. She will also share other extra tips)
- get to ask all the questions!
- get to try several types of woven wraps (eg. Bebe Sachi)
You will be taught by 3 Babywearing Consultants from Die Trageschule Dresden.
Rita Rahayu Omar
Shazana Zainal Abidin
Ismazura Sapuan
Registration Details
Registration will not be confirmed until payment has been done.
NOTE: For free events such as Support Group Meetings (SGM), no payment is expected, and registration is considered confirmed upon submission.
Reminder
1) If payments are done via "Online Transfer", under "Recipient Email" or equivalent, please enter: webmaster@susuibu.com
2) If payment is done via ATM machine, please fax the payment receipt to 03-8925 4615 or email the scanned receipt to webmaster@susuibu.com .
Disclaimer
1) If you wish to cancel your registration, please contact us at least 3 days prior to the event, in order to be entitled for a full refund.
2) This program may be postponed or cancelled if the number of participants are too low. For cancelled programs, we will suggest an alternative program for the participants, or receive a full refund.
3) Due to this possibility, please ensure that your email and phone number given during registration is accurate and reachable at all times, in order to ensure timely notifications for any change of venue.