SUPERFOOD RECIPE SHARING BY MLO:
Banana Oat Moringa Teething Biscuits: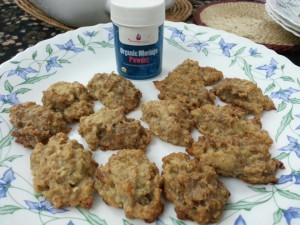 1 cup. Country Farm OrganIc oats
1 cup. of organIc plaIn flour (OR organIc oatmIlk powder)
1 cup of mashed ripe bananas
2 tbsp of organic virgin coconut oil
1/2 tsp of cinnamon powder
1 tsp NurturIng RemedIes Organic Moringa powder
1/2 tsp vanilla extract
1 tsp aluminum-free baking powder
Mix dry ingredients. Add in mashed bananas and oil. Form date-like shapes and put on greased baking sheet or parchment paper.Bake at 350F (170 degrees celcIus) for 30-40 minutes, depending on your oven. If your oven doesn't have an upper lower feature make sure you flip it halfway. We like it chewy so we take it out before it crusts. It gives a somewhat chewy texture which babies (adults too!) love. Store in uncovered dish for at least 1 hour then transfer to an airtight container. You can also put in fridge and serve cold for extra teething relief!
Happy Baking!!
NOTE:
Nurturing Remedies Organic Moringa Powder can be purchased online here: http://momslittleones.com/store/nurturing-remedies-organic-moringa-powder-p-136.html