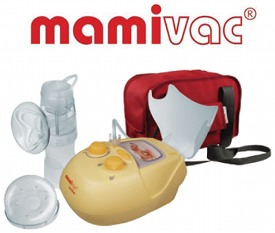 RENTAL COSTS :
Total Initial Payment: Refundable Deposit (RM300) + 1st month of rental (RM150) + Double pumping kit (RM120) = RM570
Monthly Rental: RM150 (Minimum 1 month)
If renting for more than 4 months: RM120 per month
TECH SPECS :
Vacuum Pressure : 75-250mmHg
Motor Durability : 500 hours
Vacuum Cycle : Stimulation = 60 cycles/min , Pumping = 30 cycles/min
Weight : 0.9 kgs
Warranty : 1 year
Size : 13(W) 21(L) x 12(H) cm
Optional : Rechargeable Battery pack
FEATURES :
Professional Grade Double electric Breastpump
Suitable for active & working moms
2 phase expression mode (Stimulation & Pumping phase)
Rhythmic suction (mimics baby sucking)
A CLOSED system – Protective diaphragm in the suction kit offers protection for mother and baby (Note: A pump with an open system is NOT hygienic for multiple users)
Hygienic & maintenance free
Quiet operation
Robust ergonomic design
Attaches to most standard sized bottles
We offer a Rent & Buy program. If you like it, you can BUY it!
Rent & Buy Program
If, at the end of the Mamivac rental, you like the pump and decide to buy it – we will offer you a brand new Mamivac Lactive Breastpump at a special price, depending on your total rental period:-

If rented for 4 months or less.

If rented for more than 4 months.