Last weekend, SusuIbu.Com Seri Kembangan hosted a local "Big Latch On" event, where mothers joined other groups of breastfeeding women around the world to latch on their child simultaneously, at a set time. All the breastfeeding women and children were latched on for one minute at the set time and then counted by the witnesses. The numbers were then added up – at the time of writing it looks like we have beat the previous year's Big Latch On record.
In our event, we managed to contribute 10 mothers to the tally.
Right after, our CEO Rita Rahayu expressed her heartfelt gratitude to the participants. She then described each of the multiple occasions gracing this event. First, the opening of the rebranded SusuIbu.Com outlets as "SusuIbu.com – The Breastfeeding & Natural Parenting Centre". The event also marked the launch of the new version of the SusuIbu.com website, which publishes our consultancy, education and training services to the public. In addition, it will be positioned as a hub of up-to-date news, information, issues, and FAQs related to breastfeeding, as well as regular, original contributions from our in-house Lactation Consultants.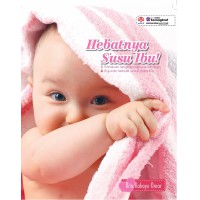 Last but not least, the event also launches her first book, titled "Hebatnya Susu Ibu!". The book took 2 years to be published, and Rita described the overall feel of the book – a light, pictureful reading – almost magazine-like, full of up-to-date breastfeeding facts, practical tips, and inspiring breastfeeding stories and experiences, which will surely delight and enlighten the reader.
The event then completes with the unveiling of the new SusuIbu.Com Support Centre. The new environment and range of services introduced will bring breastfeeding support and training services, and more importantly, our core values and experiences in breastfeeding and natural parenting, into the fore.
The event concludes with a simple but hearty Iftar, with potluck contributions from the guests. Jasmeen from SusuIbu also managed to get the children to help out with her Chindian Muslim dishes. Overall, a light and jolly affair. 🙂